Finding the best Valentine gift for girlfriend every single year can be so stressful. Having a plan to follow that teaches you how to choose a gift can take the edge off and give several options that are so good it may be hard to just choose one.
There are two keys to finding that perfect gift: planning and creativity. So, question one: what do girls want?
That is a hard question to answer but here is a good, general rule of thumb: girls want something unique, creative, and they want a mind reader. If that sounds like mission impossible, don't worry, this article will make anyone a professional.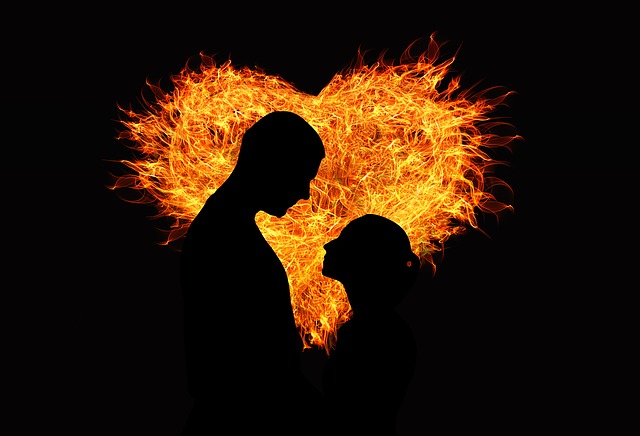 Plan your Valentine's day gift
Planning is one of the most important parts of choosing the best Valentine gift for girlfriend. So this can be simplified with a few easy steps.
First, start brainstorming! Begin by writing down ideas that you think will really wow her.
If you're having a difficult time thinking of something you can start by writing down her hobbies and things she likes.
Now, look at your list and start getting creative. Does she like animals? Think about a petting zoo! Is she a devout flutist? Maybe plan to go see an orchestra. Find a way to turn her interests into an activity!
The next ideas to start adding to your list are objects. Maybe you simply want to buy her something. Is there something she's been asking for? (Please don't get your girlfriend that new vacuum she's been needing.) Maybe she passed a dress in the mall and thought it was gorgeous!
Think about those kinds of things and write them on your brainstorming list.
Creative Valentine gift ideas for her
Something to keep in mind is that creativity has been key. Being creative is probably the easiest way to make a girl smile.
So instead of buying her something, think about making her something. This could be as simple as writing her a heartfelt letter. Or, making a wall of sticky notes to spell out her name (or "I love you") and on each note write something sweet or something you two have experienced together- like the dates you've gone on.
This could also mean you putting your wood work skills to great use and making her a sign with both of your initials on it to hang in the house. Maybe you want to paint for her.
Just use whatever skills you have and apply them to this! She'll really appreciate the time and effort you put into her gift.
Another way to get creative and make things more special to her is by personalizing her gift. You could use her name, her initials, her birthstone, her hobbies, pictures of you two together, and so on. So even if all you want to do is give her a necklace or bracelet you can make it really special to her.
You could also think of something for the both of you to enjoy together. Valentine's Day is a couple's holiday- don't forget to enjoy yourself as well!
Before you start actually making decisions, remember to keep within your budget and make the gift match the amount of time you've been together. That just means don't blow your savings because you love her- though it's a sweet gesture it's also irresponsible and unnecessary.
Finally, now that you've brainstormed your heart out, take a look at this list of ideas and you can apply them to all of your hard work!
Valentine Gift Ideas for Her
1.) Treasure Hunt
There are tons of ideas on the internet for a scavenger hunt. If you're having trouble coming up with ideas just check Pinterest! Think about theming around something she enjoys (nature, photography, cute puns, etc.)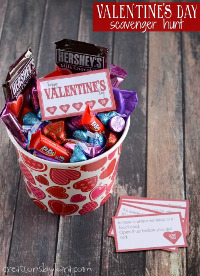 The gist of it is to leave her clues that lead her to the next clue until she finally gets to the end and finishes the hunt. The hunt could lead to your bedroom or to the car for a date or to the dining room table to find tickets to her favorite musician or anything you think she'd like!
2.) Pre-planned date night
Plan out a night she won't forget. Girls love it when you make all the plans. It makes them feel like you know them really well and that you cared to sit down and take the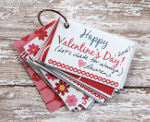 time to plan out a date catered to them.
Make reservations to a nice restaurant. Don't tell her where you're going.
Just show up with a sweet gesture like flowers- or one of the alternatives offered below- and ask her to dress her best. She will live arriving at a high-end place and not having to wait in line because you thought ahead of time.
3.) Massage
Massages are one of the sweetest gestures because it takes effort. Most girls have never received a really good massage- especially from their significant other.
Google will be a big help for you in learning the basics and using some nice oils, dim lighting, and candles will absolutely wow your girlfriend.
4.) Breakfast in Bed
Breakfast in bed is definitely one of the best starts to a great Valentine's Day. Even if you can't cook, the gesture will go a long way.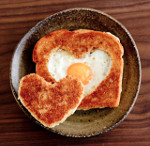 Try being creative about it. Cut her pancakes into heart shapes and add a sweet note on the side. Even a peanut butter and jelly sandwich will work- cut the center out like a heart from the top layer of bread!
5.) Love Coupons
Love coupons are a Valentine's Day classic that you can take to a whole new level. Offer things like breakfast in bed, massages, or something as simple as dinner and a movie.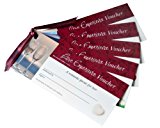 You can also play on this idea by doing Seven Day Love Pills because the whole point is for her to be reminded that she's special and worth you being creative and thoughtful.
6.) Cruise/Romantic Vacation
Sometimes the best gift is just to get away from it all- surprising her with cruise tickets or just hotel reservation in a nice city is all it takes to have a relaxing vacation with your girl.
7.) Spa Day
Make reservations for the two of you at a local spa and treat the both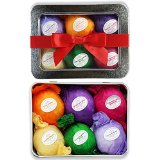 of you for an experience you can discuss over dinner. This will leave you both feeling relaxed and happy which only means the night can't go wrong!
8.) Message in a Bottle
Giving her a message in a bottle is a unique idea you can find done on Etsy.
9.) What I Love About You by Me Book
This book would be something she could keep forever! You can either make you yourself- kind of like a scrapbook- or you could use this link.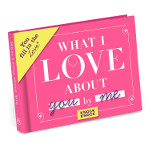 10.) 30 Reasons I Love You
This small container would go perfectly on your girlfriend's desk for her to keep forever and be reminded of you and everything you love about her!
11.) Personalized M&M's
Personalizing these candies for her would be absolutely adorable!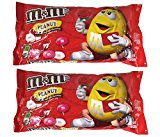 12.) Buy an Advertisement from the Movie Theatre
If you're planning on a movie date for Valentine's Day this would be a really sweet surprise for her! All you have to do is call the theatre you plan on going to and working out the rates and what you want to show – perhaps a photograph of the two of you and a sweet note!
13.) Make her a Sign
Build her something by hand! This could be a sign, a picture frame, a clock, or just a small hand carved figurine she would like. It's always the thought that counts and she will acknowledge the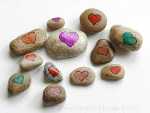 effort you put into her gift.
14.) Romantic Movie Night at Home
Sometimes dating a homebody is nice. If you're worried about looking frugal then, again, get creative! Build a fort out of sheets to watch a movie under. Or decorate the living room with white hanging icicle lights and set the popcorn table!
15.) Date Night Jar
Decorate a Jar and fill it full of fun date night ideas for the two of you to do throughout the rest of the year! This will also show her that you are thinking of your future together.
16.) Notes/Love Letter
If you want to keep it simple for this holiday you can just leave her little notes everywhere. Do a lot of play on words and cute sayings. Or go as far as writing her a love letter and let her know how you feel.
Cliches with a Twist
Now let's be honest, you're first thoughts may be flowers, teddy bears, and candy, which is great and all but you need to be interesting and fun. If that's her favorite thing then get it, but don't stop there. Give the idea an upgrade and personalize it for your girl!
Flower Alternatives
Edible Arrangements (fruit bouquet, candy bouquets, rose shaped chocolates)
Dye her favorite flower her favorite color
Sweet Notes Folded into Flowers
Teddy Bear Alternatives
Give her a Build A Bear you made for her that says "I love you!" or "Thinking of you!" or an inside joke only the two of you share.
If feasible, bring her to pick out a real pet!
Candy Options
As mentioned earlier, you can get personalized M&M's but most candy companies will also give the option for a personalized wrapper!
You can go online and find a giant heart made of chocolate
Make the chocolate homemade and then the options are endless. In fact, if you go just by Almond Bark from Walmart melt it, pipe it out, and you can write out her name or anything you want onto parchment paper. If you really want to get fancy try tracing pictures of horses or whatever she likes onto the paper. Afterward, you just freeze it and serve!
In conclusion, Valentine's Day is simpler than you think. Always plan ahead, always be creative, and always have fun! It's not about impressing her so much as it is letting her know you care enough about her to put in the effort to give a thoughtful, creative gift.